PS3 Media Server
PS3 Media Server
PS3 Media Server is a DLNA compliant UPNP Media Server for the PS3, written in Java, with the purpose of streaming or transcoding any kind of media files, with minimum configuration. It's backed up with the powerful Mplayer/FFmpeg packages.
FEATURES
Ready to launch and play. No codec packs to install. No folder configuration and pre-parsing or this kind of annoying thing. All your folders are directly browsed by the PS3, there's an automatic refresh also.
Real-time video transcoding of MKV/FLV/OGM/AVI, etc...
Direct streaming of DTS / DTS-HD core to the receiver
Remux H264/MPEG2 video and all audio tracks to AC3/DTS/LPCM in real time with tsMuxer when H264 is PS3/Level4.1 compliant
Full seeking support when transcoding
DVD ISOs images / VIDEO_TS Folder transcoder
OGG/FLAC/MPC/APE audio transcoding
Thumbnail generation for Videos
You can choose with a virtual folder system your audio/subtitle language on the PS3!
Simple streaming of formats PS3 natively supports: MP3/JPG/PNG/GIF/TIFF, all kind of videos (AVI, MP4, TS, M2TS, MPEG, MKV)
Display camera RAWs thumbnails (Canon / Nikon, etc.)
ZIP/RAR files as browsable folders
Support for pictures based feeds, such as Flickr and Picasaweb
Internet TV / Web Radio support with VLC, MEncoder or MPlayer
Podcasts audio/ Video feeds support
Basic Xbox360 support
FLAC 96kHz/24bits/5.1 support
NOTE: Windows Only: DVR-MS remuxer and AviSynth alternative transcoder support
SIMPLY FOLLOW THE INSTRUCTIONS AND SCREENSHOTS BELOW
Download the PS3 software and install it onto your computer or laptop. Once installed, open the software (green arrow icon), you will see your PS3 in the screen. You will only see your PS3 in the screen if your PS3 is ON, you will not see it if your PS3 is OFF. If your PS3 is on and you still don't see the PS3 you may need to allow the PS3 media server software though the Windows Firewall. If your still having problems, follow this link, How to set up UPnP on Windows XP.
Below is an additional setting you may wish to setup, put a checkmark in the "Start Minimized" box. This allows the PS3 software to start minimized when Windows starts. You also have to go into Windows "Services and Applications" and set the PS3 service to startup automatically.
Also, the "Force Networking on Interface" is set to default when first installed, I changed my Network card to force the software to use my wireless card. You generally don't need to set a network interface, I am simply showing that this can be done is problems occur with the "default" setting.
Below is an example of how to add "Folders" with your music, movies, pictures or whatever you want to share with your PS3. How to add a folder with your content is easy. Click the green plus (+) sign to add folders and browse to where your folder is, you don't need to add the files in that folder ONLY the folder itself. As you can see, I added many folders to show multiple folders with content can be easily added. To remove a folder, simply highlight the folder you want removed from the PS3 software and click the red (X).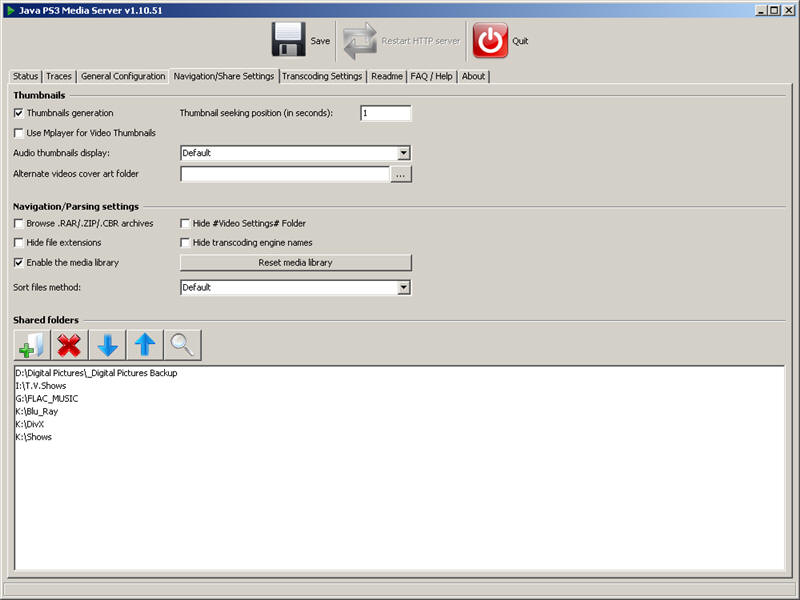 Below are the default settings in the "Transcoding Settings" tab. Generally you won't need to do anything in this tab either, if something on the left column does not show a green arrow don't panic this is normal. This is normal, just means that you don't have that particular codec installed on your computer. You may with to install these codecs at a later time. For example, you can download and install the VLC player and install it, the PS3 media server software will detect it automatically on the next restart of the PS3 media software.
Below is a screenshot of the last tab "About" this tab can be very helpful to show you the current version of the software you have installed and there are links on this tab that aid you in getting any CODECS you may want.
NOTE:
If you are streaming your content over a WIRELESS network, especially high quality movies or music and experience stuttering you need to TRANSCODE on the PS3 itself. For example, go into the Video selection on the PS3 as you would normally for watching a movie and click the TRANSCODE option and then scroll to find your movie and play it. Usually the first choice is fine in the Transcode folder. That's it.
DOWNLOAD IT

PS3 Media Server For Windows -1.90.1-setup-full-x64.exe (Windows 64 bit installer, includes Java) | Official Website
PS3 Media Server for Windows-1.72.0exe
PS3 Media Server for Windows-1.50.0exe
PS3 Media Server for Windows-1.40.1.exe
PS3 Media Server for Windows-1.30.1.exe
PS3 Media Server for Windows-1.25.1.exe
PS3 Media Server for Windows-1.23.00.exe
PS3 Media Server for Windows-1.22.00.exe
PS3 Media Server for Windows-1.20.412.exe
PS3 Media Server for Windows-1.11.348.exe
PS3 Media Server for Windows-1.10.51.exe
PS3 Media Server for Windows additional settings guide.pdf