Network Monitor
Network Protocol Analyzer Tool to allow capturing and protocol analysis of network traffic. Overview Network Monitor 3.1 is a protocol analyzer. It allows you to capture network traffic, view and analyze it. Version 3.1 is an update and replaces Network Monitor 3.0. Network Monitor 3.x is a complete overhaul of the previous Network Monitor 2.x version.
System Requirements
Windows 7; Windows Server 2003 Service Pack 2; Windows Server 2003 Service Pack 2 x64 Edition; Windows Server 2008; Windows Server 2008 R2; Windows Server 2008 R2 for Itanium-based Systems; Windows Vista 64-bit Editions Service Pack 1; Windows Vista Service Pack 1; Windows XP 64-bit; Windows XP Service Pack 3
Instructions
The Network Monitor core engine has been decoupled from the parser set. To install the full Network Monitor 3.3 product:
Run the setup.exe for the platform you are installing.
You will be prompted first to install the core engine. Follow the installation directions. Make sure you close existing instances of netmon.exe, nmcap.exe and any running NMAPI applications.
Next you will be prompted to install the parser package. Follow the installation directions:
To uninstall the full Network Monitor 3.3 product:
Go to Add/Remove Programs in Control Panel
Uninstall both Microsoft Network Monitor 3.3 and Microsoft Network Monitor: Microsoft Parsers 3.3
Additional Information
Common Issues:

Protocols may not parse correctly in either of these two situations.

1. Conversations Not Enabled – Certain protocols depend on conversations properties to store state values that may be needed in a later frames. For instance TCP needs conversations to store information about retransmitted frames, so the filter for TCP Retransmits won't work unless conversations are enabled. Similarly, SMB can't translate the response to a Transact command, because the response doesn't contain the original command. This information is also saved in conversation properties.

2. This parser and associated protocol(s) may be available under the MCPP and WSPP licensing programs; if you are interested in learning more about becoming a licensee please see:

http://www.microsoft.com/about/legal/intellectualproperty/protocols/mcpp.mspx

These parsers are considered Confidential Microsoft Intellectual Property and are not distributed publicly; therefore they are not part of the publicly released version of Microsoft Network Monitor 3.1

If you get an error "None of the network adapters are bound to the Netmon driver" or "This network adapter is not configured to capture with Network Monitor", this may occur if you are running on Vista, and either NM3 is not run with elevated privileges, or you are not part of the Netmon Users group. See the release notes for more information.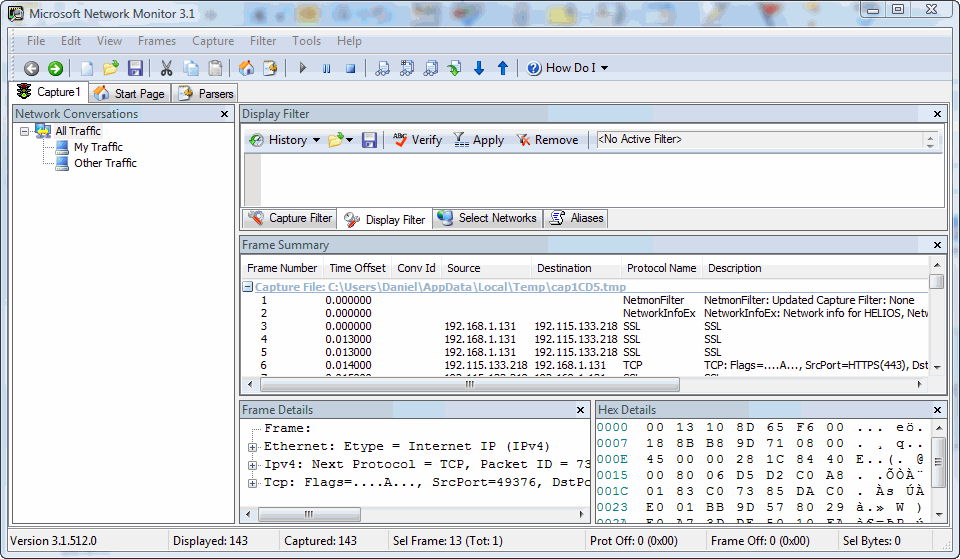 DOWNLOAD IT
Microsoft Network Monitor 3.4
Microsoft Network Monitor x86 (32 bit)
Microsoft Network Monitor x64 (64 bit)
Microsoft Network Monitor ia64 (64 bit)
Microsoft Network Monitor 3.3
Microsoft Network Monitor 32 Bit
Microsoft Network Monitor 64 Bit
Microsoft Network Monitor 3.1