Show desktop icon on the Quick Launch toolbar
How to re-create the Show desktop icon on the Quick Launch toolbar in Windows XP
If the
Show Desktop
icon is missing from the
Quick Launch
bar you may have found it difficult to recreate.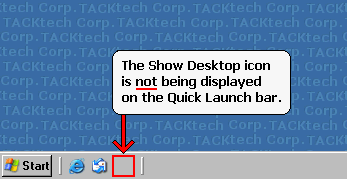 ---
Click
Start > Run...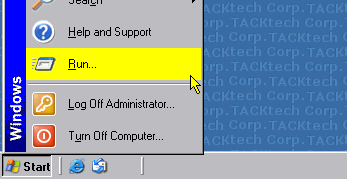 ---
Type
regsvr32 /n /i:U shell32
into the
Open:
textbox.
Click the
OK
button.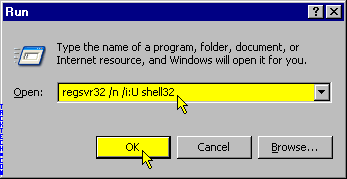 ---
The
Show Desktop
icon should now be displayed on the
Quick Launch
bar.
Note: You may need to reboot for the icon to reappear.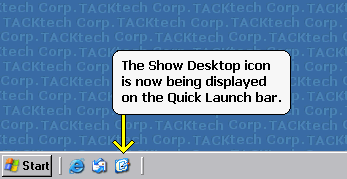 Re-create the icon another way if the top method does not work
Click Start, click Run, type

notepad

in the Open box, and then click OK.
Carefully copy and then paste the following text into the Notepad window:

[Shell]
Command=2
IconFile=explorer.exe,3
[Taskbar]
Command=ToggleDesktop

On the File menu, click Save As, and then save the file to your desktop as "Show desktop.scf". The Show desktop icon is created on your desktop.
Click and then drag the Show desktop icon to your Quick Launch toolbar.
Information for advanced users
The Quick Launch toolbar uses the files in the following folder:
%userprofile%\Application Data\Microsoft\Internet Explorer\Quick Launch